WHAT PEOPLE ARE SAYING ABOUT SUNDOWN the Western Series!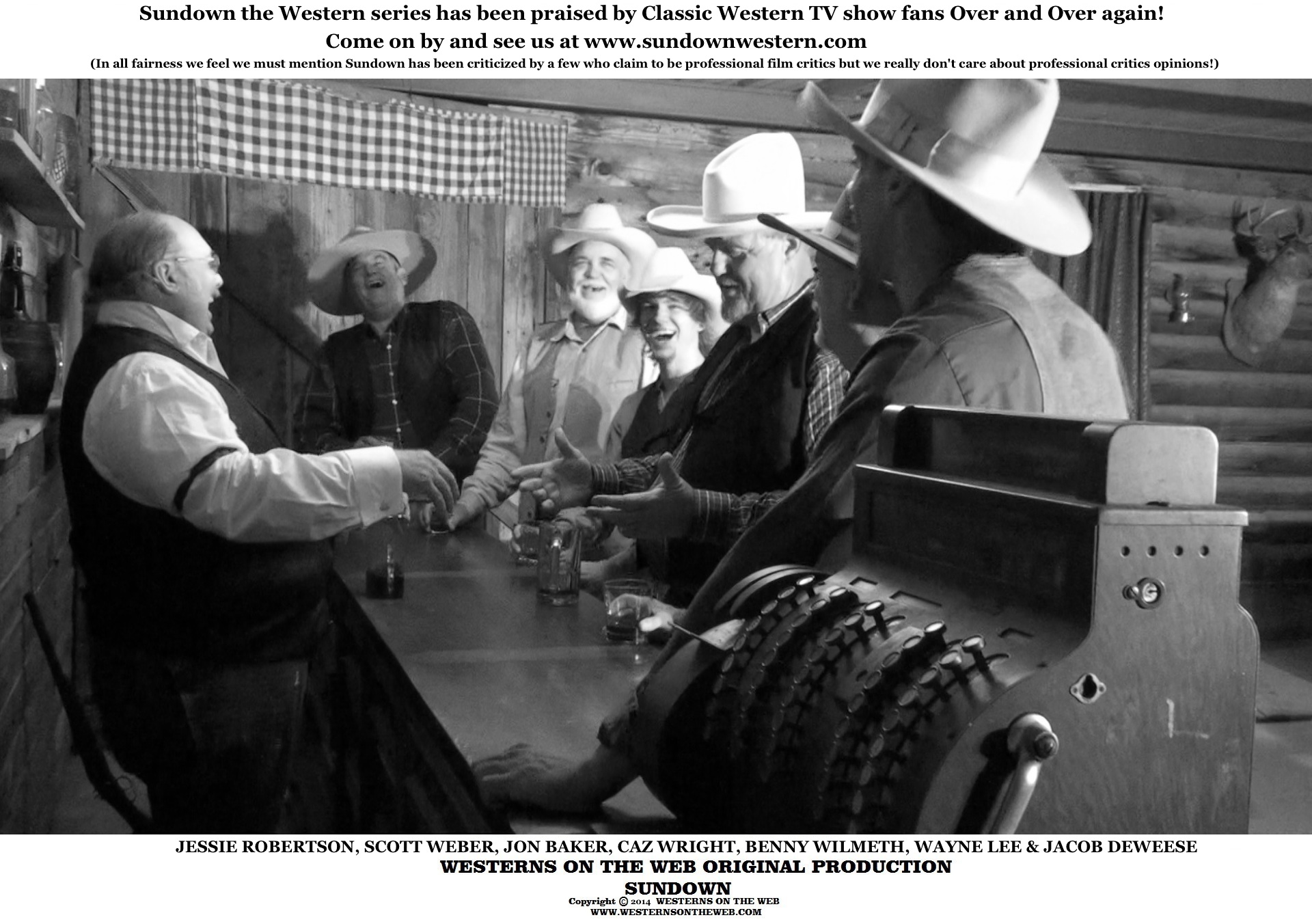 Phillip
As I continue to ride the trail with you folks I gain a greater and deeper affection for y'all. Your obvious love of the West along with your respect for our great old western heroes touches me. Your efforts to convey those feelings and your love of God reminds me of Roy and Dale. I am much obliged to you for all that you do and I urge you to continue on the path that's been set before you. Lord bless you real good!
Phillip
I love the seen with Grandma in the sheriff's office. Reminded me of my first wife.
beech
I have to say one thing. The bar keep has to have one of the cleanest counter tops of all the saloon's in the old west. Bob, you and the cast do great job. Lookin foward to see the next part of this show.
James
Great Stuff we loved it
mah
Thanks for uploading this episode.
Allen
Wonderful episode. Thanks for keeping the western series alive.
beech
Thanks Bob, Enjoyed the episode. You and your players always do a great job.
Sebastião
ÍCONES DA SÉTIMA ARTE,HISTORIAS DO VELHO OESTE .
EXCELENTE POSTAGEM,BY WesternsOnTheWeb .
Sebastião
SERIES WETERN .
SUCESSO .
SEMPRE .
SUCESSO .
GOOD MORNING .
WesternsOnTheWeb .
Sebastião
SUNDOW WESTERN .
SUCESSO .
NOS .
CINCO CONTINENTES .
MY FRIEND,FOX FLICK
Sebastião
THE .
WESTERN .
EXCELENTE POSTAGEM .
QUERIDA AMIGA,ELENA GATEA .
Sebastião
HISTORIAS .
DO .
VELHO OESTE .
NORTE AMERICANO .
Allen
Reminds of the westerns i watchin reruns with my dad. Thanks for bringing back some great memories.
Teri
I hope she is singing around the campfire in the next episode. kristynharriscom to hear her sing some western swing.
Allen
Great episode as always Can't wait till the next episode. Thanks for keeping the western alive.
Rogers
Glad to hear you quoting the Bible!
Log
I love Westerns and really like seeing that talented young actors are getting involved. Hope to see more of these new Western Movies in the future.
Texas
How is Adam?
Rogers
Where did you film this?
Rogers
+westernsontheweb
Where did you find the buildings and sets?
barandcross
Great work!
Can't wait to see these boys on the poker table get a little upset – maybe a big fight – a major shootout ensues? Bring it on!
scott
Very well done…Keep up the great and fun work…blessings
barandcross
Guys – when can we see Part 11?
Gotta see how this fight is played out?
Who gets dunked, who gets shot?
Does out hero get away?
freetorun
Love the music!! I can work all day hearing that.
jude
actually pretty good, looking forward to watching more. sure wish you could see their faces, though
mj
Fantastic!
keep them coming!!
David
Very good! It reminds me of the great black and white westerns of the 40's – 50's!! My hats of to Chance Terry with the music!
Longhorns
Still kickin', the Old West is alive and well!
Texas
Awesome!
Roe
waitin' for more pard!
Monte
Nice job. It is going to be fun to see what happens next.
Harold
thought I was going to see a movie
Allen
I'm glad somebody trying to keep westerns alive. Thanks.
fury
was hopin the sheriff would unload that scatter gun on something…..we'll see.
Cheryl
Cool!
Allen
I love this series keep up the good work. Reminds me of the old westerns. I watch with my dad.
Allen
I love your series. I love watching westerns since i was a kid. You give me hope with your series. That the western won't die without a fight. Thanks
Andre
Frank is awesome!!!
Philinte
Like tank you !
Allen
Great episode. Thanks for keeping western alive.
John
Looks as if it might be a good series !
Sebastião
Todos Atores e Atrizes Americanos,Tem um Sonho
Atuar em um Filme Wester,Interpretando o Cotidiano do Século
larry
Hurry-up waiting.(Just kidding).Looks very interesting.
Monte
The acting gets better and better each week, to reflect the good script. Keep up the great work, guys!
Edgar
Over the 4 episodes, the series is very enjoyable and interesting. The music……Wow!
For some of us, Moe Headrick is the real draw in this, though, with his low-keyed style
of acting and very likable persona.
sixgun
Nice job, getting hooked, thank you!
Allen
Great western series. I can't wait to see the next episode. Keep up the great work.
Devon
Jessie!…. Jessie!!. … are you dead? ?
Allen
Maybe this will start a trend.
bar
Great shootout and a great finale to a wonderful series!
Rogers
Has anyone else noticed that the gunshots sound quite like the shots from The Rifleman.
Allen
Great first season. I can't wait till season two.
bar
Nice one guys.
Love the knife trick in the back of the hand.
But Sam, he was right. I saw you take it from the bottom as well!!! HeHeHe
I defo feel a fist fight coming on now!
Bring it on boys! Lets play in the dirt and throw a few pouches and fire some lead!
David
Enjoying it very much! Nice editing!
Mikki
So good. So good! I'm waiting in suspense! 🙂 I can't wait until it's out!
Edgar
Well the series is out now, with episodes counted all the way up to 5. And it's indeed quite good. The trailer is still very nice to look at also, isn't it? So well done!
Burnell
great
Kimber
Nice job guys! I love it and can't wait to see the rest of it!
Sheryl
Tony's got it goin' on… the expressions, the mannerisms, the moves! Can't wait for the premiere! (And kudos to his coach… the one and only!)